Our Expert - Shilpa A. Bhoskar
Shilpa, the Founder Director, is the ever-smiling, ever-insipiring face of Activense. With her background in Microbiology, MBA and Master's degree in Dietetics and Food Service Management she brings insight and multiple facets to her job. Always a keen observer, she understands her clients' nutritional needs acutely and comes with original, practical and scientifically backed solutions. She has a vast clientele of about 7000+ of various age groups. From Child nutrition to geriatric nutrition, from sports nutrition to various life-style issues. she has worked in multiple areas.
Typical of a consultant, Shilpa also loves to talk a lot. She shares her kowledge through camps, seminars and health talks.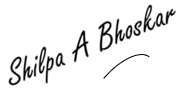 The E.A.R.N. Philosophy
Diet is not about starving. It is eating the right food, in right quantity, at the right time. Welcome to Activense! A space that trears you and your body individually!!